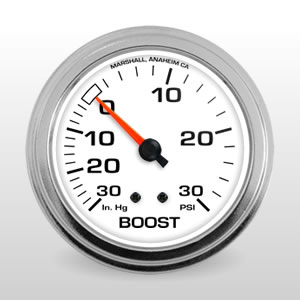 Frequently Asked Questions
Products > Comp II Auto Gauges
White: Vacuum/Boost
Item: 3211

VAC/BOOST Gauge. 2-5/8" Black Dial, Mechanical Performance Gauge

Includes 6 foot PVC tubing kit, universal t-fitting, mounting hardware and 12 volt lighting.


High performance at an affordable price. Our 2-5/8" Comp II full sweep mechanical gauges are ideal for street, sport compact, strip and oval track use. They feature rugged bronze bourdon tube movements, white or black dials, bold and easy-to-read numbers and bright orange pointer. Gauges include necessary tubing kits and mounting hardware.


Gauges include a chrome bezel for a retro look and anodized silver snap-on bezel for a modern sport appearance.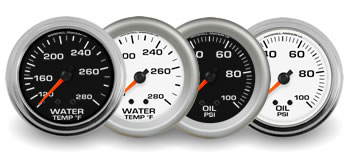 Though-the-dial lighting provides crisp, illuminated numbers and markers at night.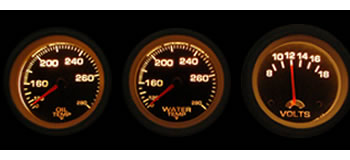 Features include:
Popular 2-5/8" size
Accurate full sweep mechanical movement
Bold numbers and red pointer
Black or white dial available
Through dial illumination
Includes fixed chrome step bezel and removable silver anodized aluminum bezel.
Also available with black aluminum removable bezel.
Private label gauges are available. Low minimum order quantities. Contact us today for a quote.