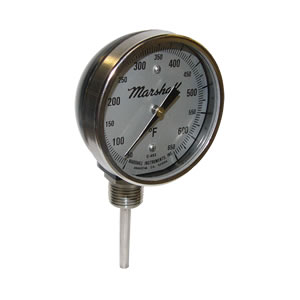 Frequently Asked Questions
Products > Bimetal Thermometers
Model J: 3" Dial
Item: J


Rugged cast aluminum head with baked enamel finish, stainless steel bezel. Stem can be located at any 15 degree position. Standard location of stem is on bottom.


Number 1 - 1/2" NPT mounting is standard.


18-8 Type 304 stainless steel, .250 diameter. Lengths from 2 1/2" to 84".


Model J: 3" diameter.


This product is proudly made in Anaheim, California USA.