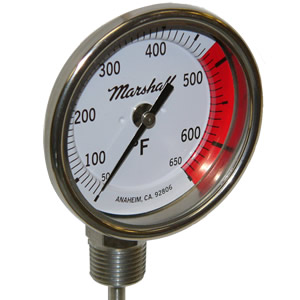 Frequently Asked Questions
Products > Bimetal Thermometers
Model J: 3" Asphalt
Item: J-ASP

Our 3" Dial asphalt thermometers with 50 - 650F dial range are used to measure the temperature of asphalt in asphalt applications. Bottom connection standard stem lengths are 15", 18", and 24".

Temperature monitoring is critical for proper application of paving materials. The storage temperature must be closely controlled in order to maintain the correct viscosity for spraying or applying. Marshall asphalt thermometers are used for testing hot asphalt product and for monitoring temperature on kettles and trucks.