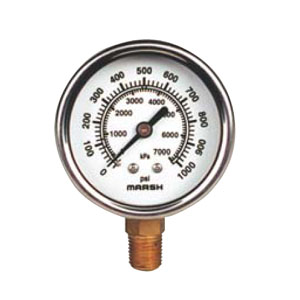 Products > Marsh Pressure Gauges
Severe Service - 100mm
Item: SEVERESVS-100X



Marsh Instruments Liquid Filled Gauges are designed to perform in rugged applications and harsh environmental conditions - especially where pulsation and vibration are a problem. Liquid Filled Gauges offer a significant cushioning and dampening effect, reducing pointer flutter and internal gauge damage; also lubricating the internals, and reducing corrosion. All stainless steel Liquid Filled Gauges feature a ventable top fill plug for pressure relief and ease of venting after installation. The hermetically sealed construction reduces the chance of leaks, and makes field filling an easy option.

Typical applications include refineries, chemical plants, offshore platforms, oil rigs, marine applications, general industrial application and OEM processes.
Accuracy: ASME Grade 1A =± 2/1/2 (±1% of range across middle half of scale)
Case Size: 100mm (3.89") diameter
Case Material: 304 Stainless steel
Case Style: Rolled ring, hermetically sealed case
CB — Central Back Mount
LM — Lower Mount
UC — U-Clamp Mount
Tube & Socket: Copper alloy or 316 stainless steel
Movement: Brass
Connections: ¼" NPT
Ranges: 0-30 Hg vacuum;
compound 30 Hg vacuum to 300 psi;
15 to 10,000 psi
Dial Standard: Dual scale psi and kPa
Dial Color: Black markings on white
Pointer: Aluminum, black painted
Window: Polycarbonate
Fill Medium: Glycerine Standard
Restrictor: Standard for all ranges
Vent Plug: Rubber plug with snip-off feature