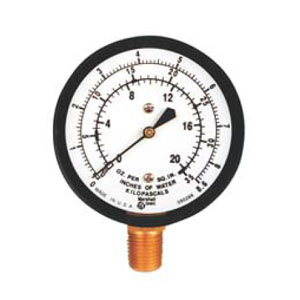 Products > Marsh Pressure Gauges
Diaphragm Gauges
Item: DIAPHRAGM



Marsh Instruments Low Pressure Diaphragm Gauges are universally known for their dependable performance and accuracy. Incorporating a unique design feature, the diaphragm element in this gauge allows accurate low pressure readings in a variety of applications. Featuring a bronze diaphragm element, the gauge is capable of ASME Grade A- 1% accuracy for ranges above 30" of water. Ranges are available in vacuum and pressure in inches of water, ounces per square inch and millimeters of mercury.

Typical applications include HVAC systems and low pressure gas burner systems.
Accuracy: For ranges 30" H2O & above: ASME Grade A = ± 2/1/2 (±1% of range across middle half of scale).
For ranges 30" below H2O: ± 3/1/3 (±1% of range across middle half of scale)
Case Size: 2½", 3½", 4½" diameter
Case Material: Steel, black painted
Case Style:
CB — Central Back Mount
FF — Three-holed Front Flanged Mount
LM — Lower Mount
UC — U-Clamp Mount
Diaphragm & Socket: Phosphor bronze diaphragm soft-soldered to brass socket
Movement: Brass sector and pinion
Connections: ¹/8" & ¼" NPT
Dial Standard: Dual scale with kPa
Triple scale: oz/in², H20 & kPa
Dial Color: Black markings on white
Pointer: Aluminum, black painted
Window: 2½" & 3½": Acrylic Twist-on clearlok
4½": Flat acrylic window with steel friction ring
Restrictor: 0.013" standard. No restrictor on 0 to 10" H2O range