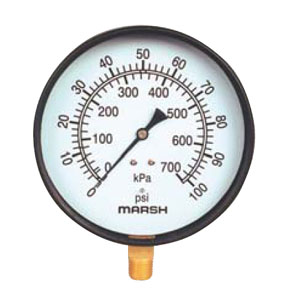 Products > Marsh Pressure Gauges
General Service
Item: GENERALSERVICEJ



Marsh Instruments General Service Steel Case Gauges are an economical, general purpose gauge for pressure measurement from vacuum/compound through 5000 psi. Suited for use with water, oil, air, gas, or other non-corrosive media. Typical applications include FRLs, compressors, pumps, boilers, regulators, dryers as well as commercial and industrial equipment.
Accuracy: ASME Grade B = ± 3/2/3 (± 2% of range across middle half of scale)
Case Size 1½", 2", 2½", 3½", 4½" diameter
Case Material: Steel, black painted
Case Style:
CB — Central Back Mount
LM — Lower Mount
UC — U-Clamp Mount
See option tables for Front Flange
Tube & Socket: Copper alloy
Movement: Brass
Connections: ¹/8" & ¼" NPT
Ranges: 0 to 30" Hg VAC;
Compound 30" Hg vac to 400 psi;
15 to 5,000 psi
Dial Standard: Dual scale psi and kPa
Dial Color: Black markings on white
Pointer: Aluminum, black painted
Window: 1½", 2", 2½", 3½" : acrylic, twist-in clearlok;
4½" : flat glass window w/ steel friction ring
Restrictor: Standard for ranges 1,000 psi and above