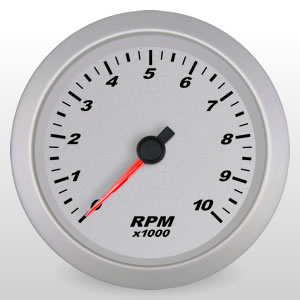 Frequently Asked Questions

This item is available with the following bezel options:
Silver Aluminum Bezel (Standard, no part number suffix)
Black bezel (add BLK suffix to part number)
Polished stainless steel bezel (add SS suffix to part number)
Polished stainless steel step bezel (add STP suffix to part number)

Products > SCX Silver
3-3/8" Tachometer
Item: 5451

3-3/8" SCX in-dash tachometer.

Gauge Type: Tachometer
Gauge Range: 0-10,000 RPM
Sender Included: N/A
Case Diameter: 3-3/8"
Movement: 270° STEPPER MOTOR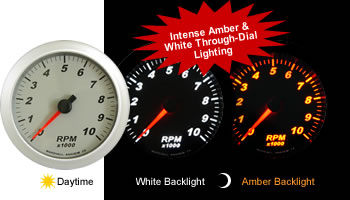 The Marshall Instruments 3-3/8" in-dash tachometers work with most 0.5-6 PPR (pulses per revolution) vehicles (1 to 12 cylinder). Our tachometers are designed to work with a wide variety of ignition types, including standard inductive coil (-) connection and any electronic ignition system with a clean tachometer output signal.

3-3/8" SCX performance in-dash tachometers feature high-speed stepper motor movement, LED through-the-dial lighting, red illuminated pointer, and easy-install u-clamp.