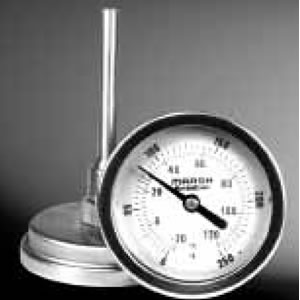 Products > Marsh Pressure Gauges
Bimetal Thermometers
Item: MAR_BIMET

Marsh Instruments Bimetal Thermometers combine the benefits of economy and reliability for local mounted temperature indication in the dual scale ranges from -50° to 1,000°F (-40° to 525°C). Additional advantages offered by the Series L Bimetal Thermometers include an easy-to-read dual scale, fast speed of response, and accurate temperature indication. The hermetically sealed and ruggedly built case is resistant to shock, vibration, dust and moisture. Corrosion resistance to most chemicals is provided by the all welded type 304 Stainless Steel construction. The extremely responsive bimetal sensing element provides an accuracy to within ±1% of scale. An external adjustment screw on the back of the 3" and 5" case provides convenient reset and field recalibration. Built-in over range protection is a standard feature. Typical applications include process, offshore, power, chemical industries, HVAC and OEM applications.