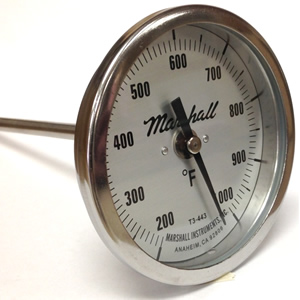 Frequently Asked Questions
Products > Bimetal Thermometers
T3: 3" Dial
Item: T3

Monitor process temperature with these thermometers that install directly into threaded tank and pipe connections. Custom ranges and dials are available.

These thermometers are rugged and preferred by the process, offshore, power, pharmaceutical and chemical industries. 1/2" NPT center back connection is standard. Other connection types are available. Cases may be liquid filled for additional dampening of extreme vibration, or to assure consistent performance in low process temperature/high environmental humidity applications.



DIAL: 3"
STEM DIAMETER: .25"
CONNECTION: 1/2" NPT Center Back
CONSTRUCTION: All stainless steel construction.
ACCURACY: +/- 1% of scale.
HERMETIC SEAL: Weather tight.
LENS: Glass
OVER RANGE: 50% to 500 DEGF and 10% over 500 DEGF.